As of today, Rockstar has released the "I'm Not a Hipster" Update for GTA Online! This free update brings with it new attire, player celebrations, weapons, vehicles, and jobs to keep Los Santos fresh and exciting. Now you finally have the chance to show off your individual style. Not that it'll end up being ironic or anything…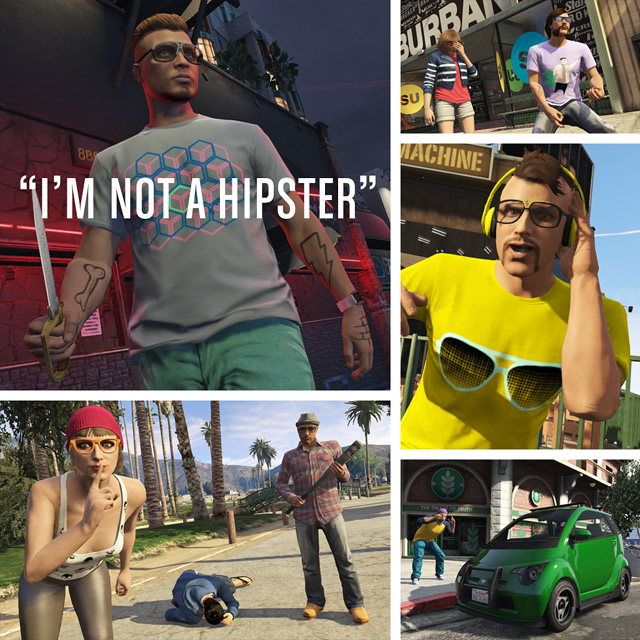 As for attire in this update, you'll be able to purchase new retro tees, skinny jeans, animal masks, tattoos, and even cool new hairstyles. I mean, you can never have enough retro tees and tats, right? Overall, there are more than 170 new clothing items available for both male and female characters.  To look even cooler, you can also head on over to Ammu-Nation and get the latest weapons, which are the Vintage Pistol and the Antique Cavalry Dagger.
There are seven new vehicles available for purchase that will give you a trip down memory lane. They may not seem like much at first, but that's what Los Santos Customs is for. The vehicles added are the Benefactor Glendale, Benefactor Panto, Declasse Rhapsody, Lampadati Pigalle, Vapid Blade, Vulcar Warrener, and a 6-seater Benefactor Dubsta that unlocks at level 100. In addition to new vehicles, there are also several new modification options in Los Santos Customs with paint colors, window tints, tire smoke, vehicle horns, and more.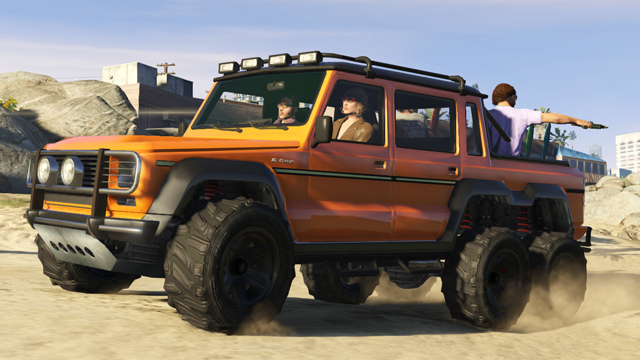 In the update there are 12 new Jobs over different game modes like Races, Deathmatches, Captures, and Gang Attacks.
Airwaves (Rank 15, 1-8 Players)
Beach Odyssey (Rank 15, 1-16 Players)
Before It Was Cool (Rank 15, 1-8 Players)
Caffeine Rush (Rank 1, 1-8 Players)
Contend: Condo-monium (Rank 1, 2-8 Players)
East Vinewood LTS (Rank 9, 2-16 Players)
Embracing America (Rank 1, 1-8 Players)
GTA: Grab a Cab (Rank 1, 2-8 Players)
Hip to be Cool (Rank 1, 1-8 Players)
Legion Square Survival (Rank 25, 1-4 Players)
Puerta Del Sol (Rank 1, 2-8 Players)
Trend Setting (Rank 1, 1-16 Players)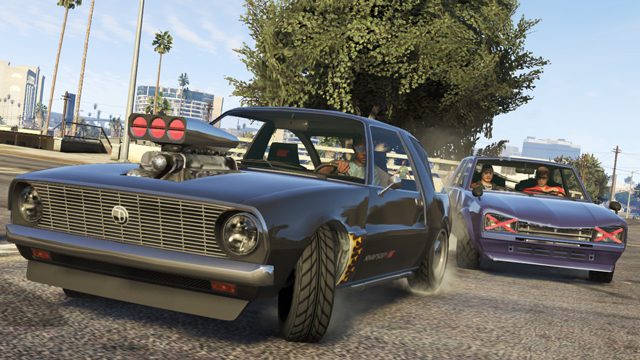 In today's update, there are a ton of tweaks that have been made. Here are some of those top changes:
Players will no longer be charged Insurance costs if their vehicle is destroyed by another player who does not have enough GTA$ to pay.
Fixed an issue where, if an insured Personal Vehicle was destroyed, both parties had to pay the insurance costs.
Vehicle Management has been added into Garages. Players can move their positions around by accessing the trigger inside their Garage.
The Mugger now drops at least as much cash as they have stolen from the character.
A 'Recently Played' option has been added to the Host Job menu. Players will be able to bookmark jobs directly in the menu.
On the Next Job Voting Screen, players who vote for Freemode are pushed out immediately when everyone else refreshes.
Fixed an issue where players could purchase insurance for a vehicle but it occasionally would not apply to the vehicle.
Invincibility has been reduced to 2 seconds after respawning for all game modes.
Fixed an exploit where players were able to avoid paying insurance and Bad Sport rating increases by using the Tank cannon to destroy Personal Vehicles.
When a player dies, they now have a chance to detonate any Sticky Bombs they had placed. They must be detonated as soon as the wasted screen appears or they will be deleted.
Player names now show on the minimap when it is expanded.
Tear Gas now does more damage and lasts longer.
Fixed an issue where it was possible for the game to freeze when starting Rooftop Rumble from the Job Selection menu.
For a full list on everything in the GTAV Title Update 1.14, head here.. https://support.rockstargames.com/hc/en-us/articles/203403217
P.S.  How many hipsters does it take to screw in a lightbulb?
You wouldn't know, it's kind of an obscure number.