All the way from Paleto Bay to the Port of Los Santos and everywhere in between, it's time to celebrate the birthplace of freedom within the world of Grand Theft Auto V with The Independence Day Special (In Association with Ammu-Nation)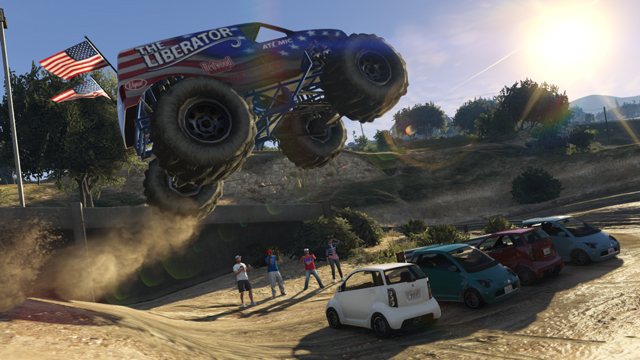 Demonstrate your exceptionalism and dominate the road from sea to shining sea with two brand new American-stereotypical rides, the Sovereign motorcycle and the overqualified Liberator monster truck. Make sure to protect your rights with the latest addition to Ammu-Nation's antiques collection, the high-powered Musket or the spectacular Firework Rocket Launcher. (Things are really starting to get absurd now)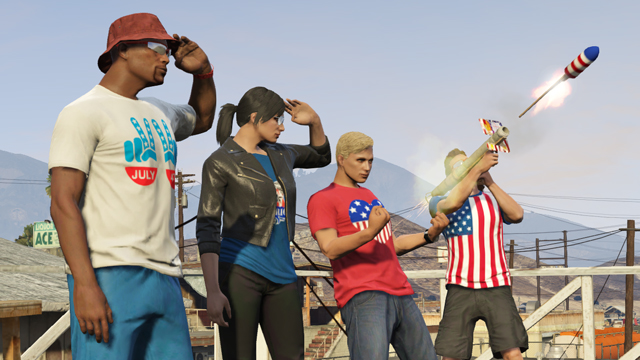 With the addition of seven new properties to choose from, including locations in Paleto Bay and Vinewood Hills, players will have plenty of yard space to set the grass ablaze with their own fireworks show. Use up to 12 varieties with different fuse lengths to create a celebration of your very own! If you prefer rickety amusement parks, especially the one near the boardwalk, then venture down to Pleasure Pier where you can now ride the Ferris Whale and the Leviathan Roller Coaster. (no longer a single-player exclusive)
This limited-time update also features an overabundance of patriotic-clothing for your in-game self to patronize over. Get ready to show off nationalistic pride with a "Made in the U.S.A." t-shirt, a backwoods mullet or let the eagle soar with an animal mask featuring this great nation's most fearsome and majestic creatures.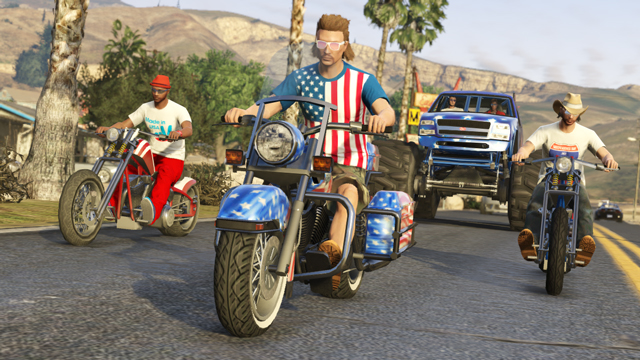 This special downloadable content will be available to redeem in-game until Mid-July. The automatic update for the Independence Day Special also includes additional game tuning updates and other adjustments, including the new On Call Matchmaking function. This new option allows players to accept a Job invite and continue playing in 'Free Mode' until that Job fills up, reducing time spent idle while waiting for a Job to start.
For the complete list of all the fixes and tuning updates, visit the Rockstar Support site.