And so, EGX 2014 comes to a close…
Before anything sentimental comes out of this article, let's make a VERY brief recap of Sunday, day 4. I had to leave by 1:30pm, so I only had two and a half hours at EGX that day.
Queues outside were very similar to previous days, and the initial plan was to play Halo, and then fill the rest of my time with whatever I could find. I found the Halo queue… I had never seen the Halo queue so long – so that that didn't happen. I got 3 matches out of the 4 days, so I'm rather pleased with that, it's enough to get me madly excited for November, anyways (like I wasn't already).
My focus shifted to the Xbox stage, where I traded in my Xbox trading cards and received the almighty Completionist card, as well as an entry to a draw for an Xbox One – which it seems I haven't won, considering I'm not sat here with a smug grin on my face. Anyways, following that I had a brief encounter with RUL member AngryBrownie, who was queuing for Fable Legends at the time. I decided to pass the time waiting for him by checking out The Evil Within. There was no queue whatsoever for it, and I figured it would be a relatively short demo, so why not?
For those who somehow don't know, I'm a HUGE Resident Evil fan, and TEW is directed by Shinji Mikami, best known as the father of Resident Evil and, by association, Survival Horror as a genre. This is something clearly evident in The Evil Within. I wanted the game to be as fresh and unspoiled for me as possible, so my entire knowledge of the game comes from this demo. My playtime saw me exploring an abandoned mansion, finding files and clues that help you piece together the story, armed with weak weaponry, very little ammo and health restoration gear, and being constantly hunted down by monstrous enemies that inhabit the building.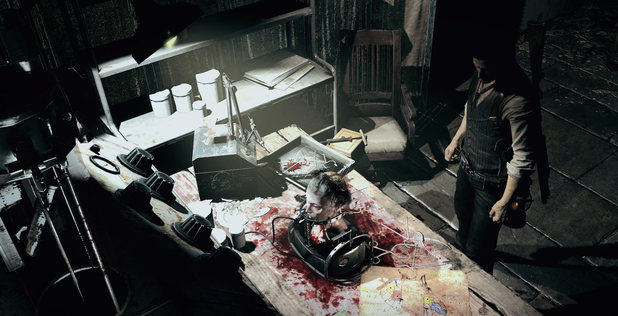 The game is not without it's puzzles, one of which took me a solid 10 minutes to solve, using a riddle to both track down to dials for a safe and then clues from the riddle location to open said safe. The game feels like a distant cousin of Resident Evil 1, crossbred with elements of RE4. I do not mean that in a bad way. The game is similar enough to preserve survival horror in it's purest sense, but it remains different and modern enough to stand on it's own two feet as it's own game.
After what ended up being over 30 minutes (presumably on account of nobody else queuing for TEW) of me attempting the demo and eventually completing it after figuring out the puzzles and dying multiple times due to my lack of a good aim, I got out of there, shaking from fear but thrilled with how this game appears to have turned out. The rest of the day at EGX ended up being spent buying items from the fantastic merch stands filled with epic gaming gear, wandering around with Nightrise, who kindly joined me for the duration of the time there and then leaving for the final time. Oh, and we came across an epic cosplayer.
Looking back on the event I can safely say I am now a more patient man, having endured two and a half hours of waiting in line to play a Call of Duty game, and more than anything, I now know what I want to do with my life. Being in such close proximity with those who make, play and love gaming for so long really hammers it home. All I can really say here to sum things up is that if you EVER get an opportunity to attend a relatively big gaming convention or expo, make sure you do so. It's an experience you do not want to miss, and one you will underestimate the sheer awesomeness of until you are actually there.
EGX has convinced me to buy and take an interest in games I never thought I would. It's changed me, my views on gaming, the games industry, my future. Most importantly of all, I had a great time, and that's all that matters.
Until EGX 2015, that's all from me – keep an eye out for my OnLive interview write-up coming very soon!