It's a good time to be a Halo fan thanks to the information revealed at Xbox's Gamescom press conference today!
Firstly, we have a new game on the horizon… Following years of fan requests and outcry, 343 Industries is teaming up with Creative Assembly to create Halo Wars 2! This apparent direct sequel to Halo Wars will be coming to Xbox One and Windows 10 in Fall 2016, check out the trailer below!
Secondly, for those of you looking to upgrade your Xbox One to something with a little more Halo flair… Meet the Halo 5: Guardians Limited Edition Xbox One Bundle!
Designed to reflect the visual themes of Halo 5, especially that of Spartan Locke's armor, the Halo 5: Guardians 1TB LE console is something truly special. Featuring blue foil highlights, custom sounds and a matching controller, it's a unique collectors piece. Also included in the bundle is a standard headset, all the contents of the Halo 5 Limited Edition plus in-game FOTUS armor and a multiplayer emblem.
If the console isn't for you, but you still want a piece of the action, the controller will be available separately, as well as a Master Chief themed model, as pictured below. Head here for more details on these!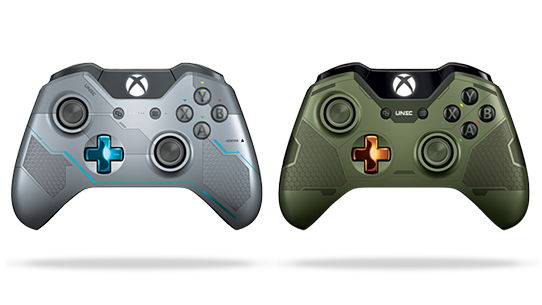 Finally, some great news for eSports players and fans alike! Kicking off this fall is the newly-announced Halo World Championship,with the biggest prize pool in Halo eSports history – a whopping $1 million!
So, are you going to be getting any of the new hardware? Are you excited for Halo Wars 2?
Let us know in the comments!